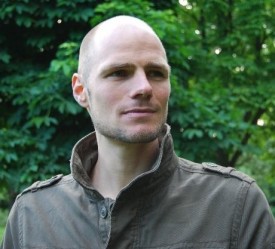 Na mijn opleiding journalistiek aan de Hogeschool van Utrecht ging ik aan de slag als freelance journalist (mijn artikelen verschenen onder andere in Volkskrant Magazine, MindOpen, Nieuwe Revu en Vrij Nederland) en begon ik een studie psychologie aan de Universiteit van Amsterdam. Mijn studie psychologie mondde uit in twee onderzoeksprojecten voor de master Brain and Cognitive Sciences van de Universiteit van Amsterdam. Bij the Netherlands Institute of Neuroscience was ik allereerst betrokken bij onderzoek naar de effecten van slaapdeprivatie op leren en daarna onderzocht ik de de effecten van diepe hersenstimulatie op obsessieve-compulsieve stoornissen (zie de artikelen hieronder). Later deed ik onderzoek naar de genetische en omgevings (stress) factoren die bijdragen aan schizofrenie bij The Mental Health Research Institute in Melbourne, Australië.
Sinds mijn afstuderen combineer ik beide studies door zoveel mogelijk over hersenonderzoek te schrijven voor een breed publiek, bijvoorbeeld voor De Neuroloog en Managementboek Magazine. Daarnaast geef ik les aan de master Brain and Cognitive Sciences en de bachelor Bèta-Gamma en schrijf ik boeken over wetenschappelijk onderzoek en onderwijs voor het Instituut voor Interdisciplinaire Studies van de Universiteit van Amsterdam. Ik ben een van de Gasten in je Gezicht en bij uitgever Maven Publishing schreef ik het populair wetenschappelijke boek 'Stalen Zenuwen'.
Boeken
De Greef, L., Post, G., Vink, C., & Wenting, L. (2017). Designing interdisciplinary education – a practical handbook for university teachers. Amsterdam University Press.
Post, G. (2016). Stalen zenuwen: hoe topsporters presteren onder druk (en wat jij daarvan kunt leren). Amsterdam: Maven Publishing.
Menken, S.B.J., & Keestra, M. (eds.) (2016). An introduction to Interdisciplinary Research. Amsterdam University Press.
Buis, J., Post, G., Visser, V. (2015). Academische Vaardigheden voor Interdisciplinaire Studies. Amsterdam University Press.
Journalistieke artikelen
Als journalist ben ik voor verschillende tijdschriften op pad gegaan. Mijn artikelen zijn verschenen in:
De Pers, Oog, Revu, Mind Magazine, De Neuroloog, JFK Magazine, MindOpen, Viva, Vrij Nederland, Volkskrant, Miljonair Magazine, Managementboek Magazine, Summertime (hoofdred.), Green2, NRC en Esquire.
Wetenschappelijke artikelen
Klanker, M., Post, G., Joosten, R., Feenstra, M., & Denys, D. (2013). Deep brain stimulation in the lateral orbitofrontal cortex impairs spatial reversal learning. doi:10.1016/j.bbr.2013.01.043. Behavioural Brain Research, 245, 7-12. (Abstract)
Leenaars, C.H., Joosten, R.N., Kramer, M., Post, G., Eggels, L., Wuite, M., Dematteis, M., Feenstra, M.G., & Van Someren, E.J. (2012). Spatial reversal learning is robust to total sleep deprivation. Behavioural Brain Research, 230 (1), 40-47. (Abstract)
Leenaars, C.H., Kalsbeek, A., Hanegraaf, M.A., Foppen, E., Joosten, R.N., Post, G., Dematteis, M., Feenstra, M.G., Van Someren, E.J. (2012). Unaltered instrumental learning and attenuated body-weight gain in rats during non-rotating simulated shiftwork. Chronobiology International, 29 (3), 344-55. (Abstract)